About Klink & Son
Landscapers in Stoney Creek, ON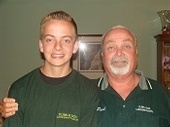 "A business big enough to do the job, but small enough to care."
Klink & Son is a family-run property maintenance company, based in Stoney Creek, ON, providing landscaping, property maintenance & snow removal services in Hamilton, Grimsby & surrounding areas.
Established in 1996, Klink and Son specializes in lawn and property maintenance in both residential and commercial properties.
Klink and Son are owned and operated by Paul and Nick Klingender and primarily work out of the Hamilton/Stoney Creek area. Feel free to call us today to schedule a customized maintenance program that will meet your specific needs.
We are family owned and operated and take pride in maintaining 100% customer satisfaction.
The two pillars of our exceptional customer satisfaction rests on delivering Quality Services and overall Dependability to get the job done right, the first time.